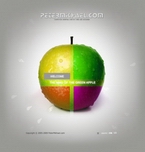 Okay.. Let's make some flash stuff. Depends on the green apple of the original website design. I'll explain every page individually in further steps... but I'll explain the whole idea first. So I start with the green apple then slice it to 4 slices. Every slice have a main link (Home – artwork – about me – contact me).
The landing page contains 5 elements:
Logo and slogan
The apple
The animated background of the apple
The exploded ideas (light bulb)
Footer
When u hover on any slice you get the link expand horizontally and represent the instead slice content.
After you click on the slice a rotated page expands and represents the content.
Home page: represent welcome part (my existing companies/work) and latest of my work Art Work: represent a photo gallery of my latest work including 2D/3D/Web About me: represent my IT skills and freelance services list which I provide. Contacts info: represent my contact and a worked mail form.
Still in beta version. hope to add some stuff soon.